Solanaceae - Prologue Comic
Solanaceae: Prologue, Chapter 1 PRE-ORDERS ARE NOW OPEN ON ETSY!
---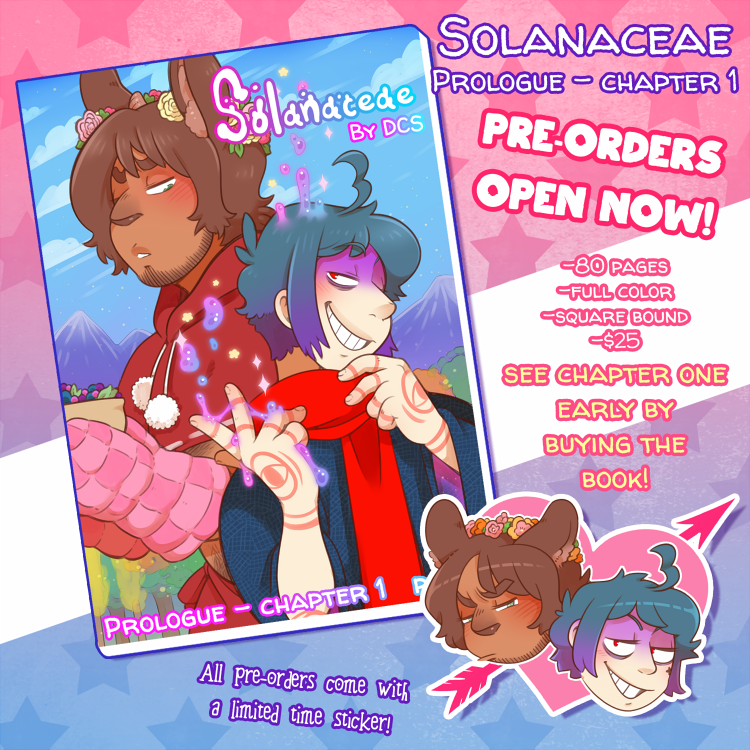 Hey all!
I'm still not sure when the PDF version of this first chapter will be ready to Itch.io-- but I can tell you that the PRINT version of this first chapter is now up for pre-order, IN FULL!
PRE-ORDER HERE! 👈👈👈👈

*Front and Back covers are still subject to change. Sticker design is final.
6.625x 10.25 inches, square bound FULL COLOR completed chapter 1 of the Solanaceae Prologue!
"Sal, a satyr, seeks to make a living stealing and conning people-- but, when he meets a witch named Battam who he thinks he can con into falling in love with him; things turn around on him in a way he's never experienced."
The contents of this book are rated PG-13, for some sex jokes and discussion of sex.
***PRE-ORDERS WILL BE READY TO SHIP AUGUST/SEPTEMBER 2019 OR WHENEVER IS SOONEST POSSIBLE***

See you sometime in the future with PDFs of this comic!
Get Solanaceae - Prologue Comic