Tomai
Tomai's Extra Stories are now available for download!
---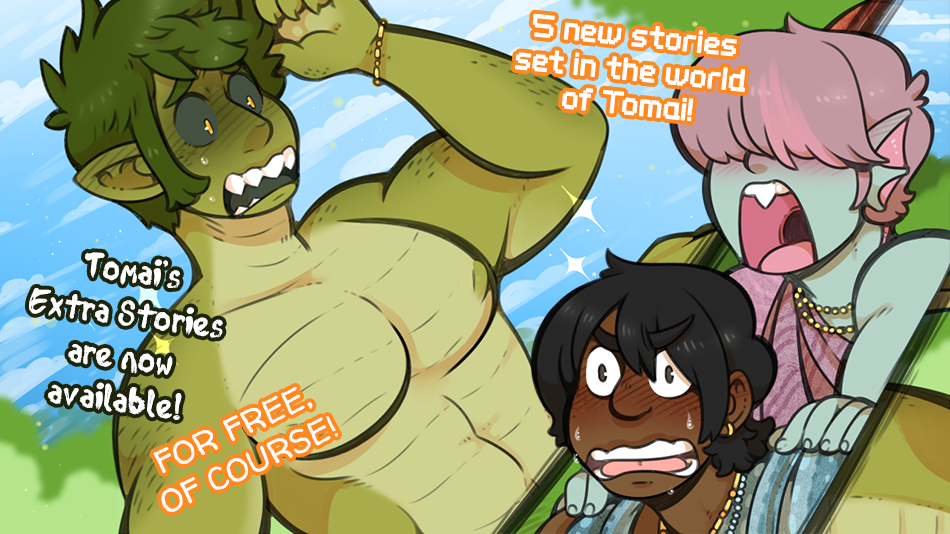 That's right folks, it's finally time! Finally time for you to enjoy the long awaited Tomai Extra Stories!
👉👉 All you need to do to get these stories is to re-download the game! In the main menu, there's an "Extra Stories" tab and from there, you can view each story at your leisure.

(Since these stories weren't a part of the original game, your endings or completion of the game does not affect whether you can see these stories or not-- I figured this would be easier for players who have played the game but since deleted the files.)

And now, a bit about the making of these stories...

Phew, it's been a long time coming to complete these and it was a wild ride to get here too. But, generally I think I'm pretty happy with these goofy extras and it really fulfilled a lot of my wish to simply have more info about the boys and their world available to everyone. The game is now truly ~complete~

It's humbling and very sad to think it's just me finishing up these stories. But hey, y'know! I'm proud of myself. I took a pretty bleak situation and still made something fun out of it.
The writing for these stories is obviously very different, and very much *me* more than anything else-- but I still think it's fun and all of my Patrons and friends who playtested the game also enjoyed them. There's plenty of jokes, plenty of serious moments, and some fun horny stuff too, of course!
Oh! Speaking of Patrons. I made a 13 page PDF of the art/story thoughts for these Extra Stories that's exclusive to Patreon. (For just $1) It's not a PDF I want to share here for a few different reasons-- but mostly just because it's a bit more personal than the others. If you wanna check it out, just click this big 'ol link.
I thought I'd have a lot to say here but I think I said most of what I need to in that PDF...
I think I'm just gonna let Tomai speak for itself now. I'm just gonna let it be a game I'm super proud of and happy to have in my roster and I hope it continues to make people happy for years and years to come.
And I really hope you'll stick with me for all the other games and comics I'll be making this year. I've got big big plans for 2019 and so far I've been hitting all my milestones-- so I'm keeping my chin up!
I hope you enjoy the new stories, and thank you again for playing.