I'm DCS! I'm a full time comic artist who also enjoys making visual novels!
👌 Fanart, fanfic, cosplay, streams and Let's Plays of my games are A-OK! All I ask is that you link back to the game, please!

I'm also a member of Sofdelux Studio-- check it out!

Other places to find me: My Art Tumblr ♢ My Etsy ♢ My Twitter (18+ ONLY) ♢ My Lemmasoft Thread ♢
If you're also interested in reading EVEN MORE of my comics, pledging $5 to my Patreon allows you access to my secret comics...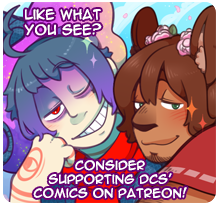 Thanks for your support everyone!